In Part 1, I wrote a bit about the RV we bought and some of the features we used along the way. The actual trip itself was a blast even though we were quite constrained by time. We had only 7 days in total to drive from Texas to South Carolina and back. The driving takes about 3 days so we only stopped for a day in SC. We have made this trip many times before in just our car and hotels and it made a real difference not having to drag a bunch of suitcases in and out of hotels and sleep in strange beds every night.
I had to go by the Camping World in New Branfels before the trip to pick up some last-minute supplies like wheel chocks and signed up for their membership club. They gave me a hat and now I feel like an official RVer.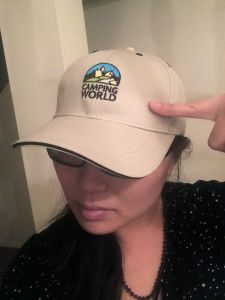 Unfortunately, Michael said I was forbidden from actually wearing it on the road because he said we don't want our antisocial asses to be mistaken for the Gornickes.
One of the first things we learned was to have a checklist of things to do or check before driving off that's worth noting (besides making sure you didn't forget your children):
RV Checklist Before Driving Off
Check your tank levels – water, gray water, black water so you can plan your next stops if you need to dump or refill anything
Stow all items like TVs and fold out beds.  Secure all objects in cabinets and close all doors including the bathroom door. Don't forget to do things like tightly closing the lids of shampoo and soap bottles in the bathroom (or you arrive at your next stop with a bathtub covered in Trader Joe's Tea Tree Oil Soap)
Check the stove and make sure all knobs are Off
Check all windows and make sure they are closed and blinds are drawn and secured
Check the fridge and make sure it is on Auto
Turn off lights, furnace, water heater and water pump
Check that slide out and awnings are retracted and ready for travel
Lock the RV
Walk around the RV and check that all hoses are stowed and all compartments are locked. Also don't leave any trash behind.
If tow vehicle was disconnected, attach tow bar and check connections including lights on the RV
Stow the steps (yes, we nearly drove off with the steps down once)
Boondocking – Overnight Parking
Depending on the purpose of your trip and your traveling style, you also may want to plan your stops. Because of the time constraints of this trip, we decided we needed to maximize our driving time on the road and stop late at night when we were tired and boondock (dry camp). My research showed that there are some options for locations for FREE overnight parking:
24-hour Walmart parking lots – As a company, Walmart welcomes RVers for overnight parking. There are some rules including calling ahead to check that the particular store welcomes it (some city ordinances do not allow provision for overnight parking) and of course, patronizing the store before you leave.
State Rest Areas – Many have security, showers/bathrooms, vending machines and spaces for RVs. Overnight parking (for one night) is allowed by some states and restricted by others.
Truck Stops and travel plazas like Flying J – many of these have RV parking spots, showers, septic dumping stations and opportunities to refill water and even propane.
The odd Cracker Barrel and McDonald's have also been mentioned as possible overnight parking spots although we never drove past one that allowed it.
An absolute Must-Have on such trips is an app like RV Parky that gives you a map of possible overnight parking spots and includes all the different ones listed above (as well as actual RV parks you have to pay for).
Some tips for making your overnight parking successful:
I would say the top of this list should be SAFETY. Be very aware of your surroundings and I highly recommend being armed. Assess the risk level at your stop – are you at a State Rest Area or a busy Flying Js? Are you parked close to lights and other RVs? Make sure everything locks in your RV. Don't leave anything in the towing vehicle to tempt burglars. Have your loaded firearm within reach but safely out of reach of little children and have a plan for how to act and what to do in the unlikely event of being robbed or attacked. Don't stay anywhere you don't feel comfortable at. If it gives you the heebie jeebies, move on and stop at the next place.
Generally speaking, aim to overnight park far away from major cities. Most crime and criminals tend to be around big cities so choosing a spot away from them is highly recommended.
Don't pull out your slide outs or awnings or bring out your chairs and  tables and look like you're "camping". You want to draw as little attention to yourself as possible in a shared public space.
Conserve your resources including water, electricity and propane. We carried a pop-up storm lamp with us to use instead of the RV lights. It was cold but we kept the thermostat at a level so that the furnace wouldn't be burning all night. And we ate meals that could be cooked on propane stove or eaten cold (sandwiches were big).
Be considerate to your fellow travelers including Truckers. Don't take up a truck parking spot if there are designated RV spots. Be sure to check the end of where your RV ends up so it isn't in the way of trucks pulling in and out of the area (you don't want to lose part of your trailer).
If you end up at a Walmart's, Flying J's or other business that allows you to park overnight for free, patronizing the business in the morning is a great way to pay them back for the courtesy and ensuring all RVers continue to enjoy this in the future.
If you have young children like us, have plenty of activities ready to keep them occupied and quiet staying indoors.
If you are parked somewhere noisy like a Flying J's or next to trucks with their engine running, consider white noise to help you sleep. The babies sleep better with it and it helps drown out background noise (but do weigh this up with the risk of parking in certain areas where you want to be aware of noises and movement in your vicinity)
From our own experience this trip at 3 State Rest Areas and one Flying J's, the safest I felt was at the busy Flying J's travel plaza. We parked within sight of the gas station and store in some designated RV parking spots and had other RVs on either side of us. It was a little noisy but nothing that white noise couldn't fix. Also, we were so exhausted, it didn't really bother us that much.
The State Rest Areas were a mixed bag. The one in Texas was very nice and we were parked behind another RV and between trucks. The one that stuck out for me was the one in the swamps in Louisiana. No really, it was in the swamps under the highway. There were no lights getting from the highway to the parking lot and there were only a couple of RVs and also people sleeping in their regular cars. But there is a long stretch on State Highway 10 that goes through LA through completely deserted swamps. We were too tired to keep going so just ended up there but next time we do this, we will try to avoid being in that area when we stop. Louisiana isn't actually a state that technically allows overnight parking in State Rest Areas. No one bothered us (or any of the others) but the advice is that if you are approached by law enforcement, just comply and move on to the next stop.
Because our RV is self-contained, we have no reviews for the facilities at these stops but it was nice to be able to pop into the store at the Flying J's to buy little things like milk if we were running out.
Also, we did drive by and chose to keep moving past other brands of truck stops like Love's and Pilot. Not all travel plazas and truck stops are created equal. Flying J's seem to be the biggest ones and provided for RV customers because there are usually RV parking spaces separate from trucks. In the future, we will definitely be aiming for Flying J's as the first choice.
We are making another trip soon and this time, I think we might take it easy and stop while it is daylight so we can take some pictures 🙂