So a couple of weeks ago, we went right ahead and purchased our new home off Craigslist. This is the Forrest River Coachmen Catalina 2011 28 BHS.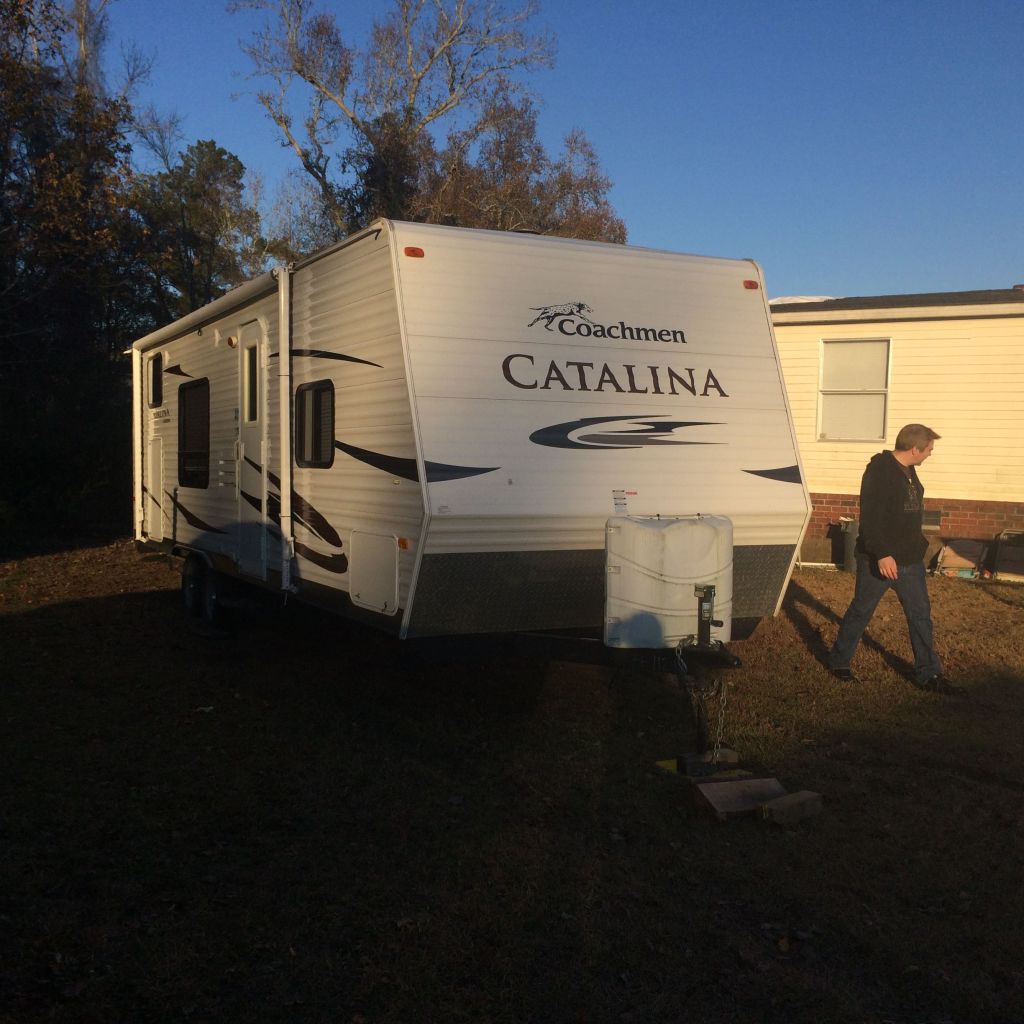 It has a queen bedroom as well as bunk beds. The sofa and the dinette also convert to more beds if needed.
The trailer measure 30 ft in length and 96 inch in width. It also has one slide out to give us more space when parked.
Dry weight is 5205 lb with a payload capacity of 2570 lb. Even when fully loaded, it is well within the towing capacity for both our vehicles.

We got so excited when we bought it, we decided to use it on a cross country trip to South Carolina for Thanksgiving. We have to move some of our belongings to our home in SC and instead of hiring a uHaul trailer, we used the Catalina to transport things like an IKEA couch, dining table and chairs and various boxes of person items.
There was really no time to prepare much so we were winging it.
We made the beds. We created an extensive list for the kitchen and bathroom (See our kitchen list) and decided to take everything else like clothing in a suitcase. For the kids, we threw together a few toys and books and grabbed cloth diapers for MJ.
Most of our trip was to be spent on the road so we had some decisions to make about how we chose to spend our overnights. Would we hook everything up at an actual RV park or would we dry camp, aka go boondocking?
We decided in the spirit of saving money and adventure, we would boondock for the 6 days of this trip.
To do this successfully, we had to understand some of the technical specifications of our RV.
Electricity
The RV runs two electric systems – 12v DC and 110v AC
12v DC is like the electric system on your car and in the RV, this system powers the fuses, the lights, furnace, water heater and the fridge. The source of this power is the onboard battery that's attached to the outside of the trailer. The battery is charged while plugged into our tow vehicle and can also be charged when the RV is plugged to a shore cord.
110v AC is like the electric system of our homes and in the RV, this system powers the microwave, all the wall plug outlets and the air conditioning. As is, our RV can only utilize the 110v AC system when plugged into a shore cord. Our plug is a 30 Amp one.
For boondocking during this trip, we would have to plan to be without 110v AC until we could plug in somewhere. This means we would not be able to use electrical outlets, wall plugs or the microwave. We made sure to pack food that could be cooked on the stovetop and planned to charge any devices like phones and tablets in the car while driving. Also, we were traveling through the Southern states in November so we would have no need to use the air conditioning. We also saved battery life by taking a storm lamp with us so we wouldn't need to use the RV lights as much and basically being extremely conscious of how much electricity we consume including turning the heating down low at night.
For future trips, we would look at enhancing our dry camping abilities by installing a generator or an inverter to utilize the 110v AC system even when not plugged in to shore. We would research a bit more on the type of generator to buy including what type of fuel it would run. I personally learn towards an inverter because it is quieter but it would be contingent on us being able to install more batteries since it works by converting the 12v DC power of the batteries to 110v AC. The rule of thumb is 1 battery per person plus an extra so we would probably look at installing at least 4 batteries for our little family.
Some other features we should look to add include a 110v volt meter to monitor usage and a surge protector.
Propane and Heating
The RV comes with double 20 lb tanks for propane. Propane powers the gas stove (YESS I love cooking with gas), refrigerator, furnace (heating) and also water heater.  The two tanks are there so you would never run out of propane. You just have to remember to always keep the second one filled as you travel and use the one plugged in.
For this trip, we were relying mostly on propane for cooking and heating but barely made a dent after a week.
The water heater tank that comes with our model is only 6 gallons. When fully heated, we find that this is *BARELY* enough for quick showers for 2 adults and 2 young children.
For boondocking during this trip, we were just stuck with making sure we never all showered in succession.
For future trips as well as full timing, we are going to install a tankless instant water heater that will heat water on demand and allow us to use as much hot water as we need. I am busy researching different models and hopefully will get one installed soon for our full timing experience in a few weeks. There is a variety of advice about whether this is a DIY job or whether you need to a professional plumber. I can't think of why we wouldn't be able to do this ourselves!
Water and Sewage
I mentioned earlier there is a 6 gallon hot water tank.
Aside from hookups for plugging in city water and gray/black water, the RV is also equipped with a 46 gallon fresh water tank, 40 gallon gray water and 40 gallon black water tank.
For this trip, we filled up our fresh water tank and didn't refill it till we got to SC on Day 3. The gray and black water tanks were also emptied on Day 4. We had to make as top at the Myrtle Beach Camping World to find a sewer pipe as well as bumper caps so that we could store this pipe inside the bumper when not in use.  We were really trying to stay cheap so we filled our water tank from garden hoses and when we emptied our gray/black water, it went straight into the the septic tank of MIL's mobile home 😀
Other General Things
RV insurance including road side assistance was something we purchased immediately before driving off
A spare tire was NOT part of the standard package and we need to purchase one (14-inch)
The Easy Store door as well as storage compartment doors under the cabin do NOT have locks or are flimsy locks. These need to be reinforced before our next trip. For this trip, we just didn't keep anything valuable in the storage compartments and there was always an adult sleeping in the bunk area with the kids. And we were armed
Speaking of being armed, we travelled with a loaded 12 gauge shotgun. For future trips, an easy access biometric safe with a short gun would probably be a better choice.
Insulation Enhancements – I told Michael I could see daylight come through parts of the wall of the bathroom when he had the storage compartment open. While this isn't a problem for full timing in south Texas, I feel like we could probably be more energy efficient if we could reinforce the insulation of the RV for the future
RV Mattress Toppers – The Short Queen bed needs a topper so it will be more comfortable. The bottom bunk is a Double but has a corner cut off so I might have to find a piece of foam and cut it to fit.
I have put all the specs and details of the RV in the Our Home page
That does it for Part 1. In Part 2, I will share some of our experiences of driving and finding boondocking parking along the way. Be prepared to hear about Walmart, Rest Stops and Truckers 🙂