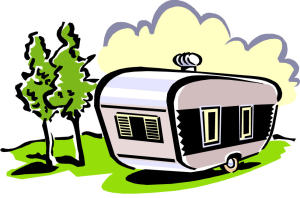 When we started thinking about full timing in an RV I immediately thought about how big this thing was going to be. Having the whole family cooped up in a relatively small space was one of my biggest concerns. We wanted to get the biggest most comfortable RV we could. The main limitations for us were:
How much can we afford?
How much weight can our truck tow?
The answer to the first question was easy. One of the main reasons I even considered full timing in an RV was to save a boat load of money. I was inspired by Jacob Fisker's book Early Retirement Extreme: A Philosophical and Practical Guide to Financial Independence
to stop being such a consumer and to save as much of my income as possible. Getting a loan to buy the newest and fancy RV available would be completely against the point. We set our price range at $10K – $15K based on what we could pay in cash.
The second question was a little more difficult as neither one of us had really owned an RV before.
Figuring Out What Type of RV to Buy
Given our budget and goals we decided to get a towable RV versus a motorized one. We both have our own passenger vehicles which we wanted to continue to use. Having a towable trailer would be much less of a hassle if we decided to move compared to having a third vehicle that would need to be driven. Since neither of our vehicles have a 5th wheel setup that left a conventional travel trailer as the best fit for us.
Figuring Out How Much RV Our Vehicles Can Tow
We own a 2003 Dodge Ram and a 2004 Chevy Tahoe. They are both pieces of crap. They are high mileage vehicles and prone to needing repairs. However they both already towing packages including heavy duty hitches with brake controllers. Our logic was to pick a RV travel trailer that could be towed by either vehicle. That way when the inevitable breakdown of one or the other vehicles occurred, we would still be mobile. Whats the point of having a house on wheels if you can't move it?
There are tons of considerations to keep in mind when thinking of towing capacity and limitations. These vary from the type of hitch you have, the weight of your vehicle, the weight of your cargo, the weight of the trailer, the tongue weight of your trailer, etc. The list went on and on until my eyes glazed over. All of this is important stuff and everyone wants to be safe on the roads but I was looking for something a bit simpler to start with.
What worked for me was figuring out the Gross Combination Weight Rating (GCWR) of our truck and SUV. This rating represents how the maximum combined weight of your truck plus the trailer. A lot of people thing the main concern around towing is how big of an engine you have. In fact your towing capacity is based much more on what your vehicle can stop versus what you can get moving. You can move surprisingly heavy loads with something small like Honda Accord but wouldn't have much luck stopping those loads. The GCWR will tell you how much of an overall load both your engine and breaks can safely handle. I looked here to find that my 2003 Dodge Quad Cab with the 5.7L Hemi had a GCWR of 13,000 lbs and weighs roughly 5,500 lbs. That means there is 7,500 lbs leftover towing capacity for the trailer. Similar searches showed that the 2004 Chevy Tahoe Z71 had roughly the same towing capacity of 7,500 lbs.
We were really surprised to find that a lot of the travel trailer RVs in the 28 to 30 foot range were within what could be handled by our vehicles. One thing to keep in mind when comparing the trailer weight to the towing capacity is the difference between "dry weight" versus the Gross Vehicle Weight Rating (GVWR). The dry weight only reflects the weight of the trailer when it is empty except for the standard factory equipment. The Gross Vehicle Weight Rating represents the maximum weight of your trailer and would include any water, belongings, or other cargo you add to the trailer. You should always compare the GVWR against the towing capacity of your vehicle (which is the GCWR minus the weight of your vehicle). If the trailer manufacturer or dealer doesn't show the GVWR you can calculate it by adding the cargo capacity of the trailer to the base weight of the trailer.
Time to Shop
Based on this quick research it looks like we can find an RV with the space we need without upgrading our truck or wiping out our bank account. We can keep our piece of crap vehicles a little longer (yay!)
I wouldn't feel great about towing it across the country but we are planning on mostly sticking to local campgrounds in San Antonio. I am sure we would want to revisit the towing question before setting out on an interstate trip but for now our full timing plans look to be pretty achievable.